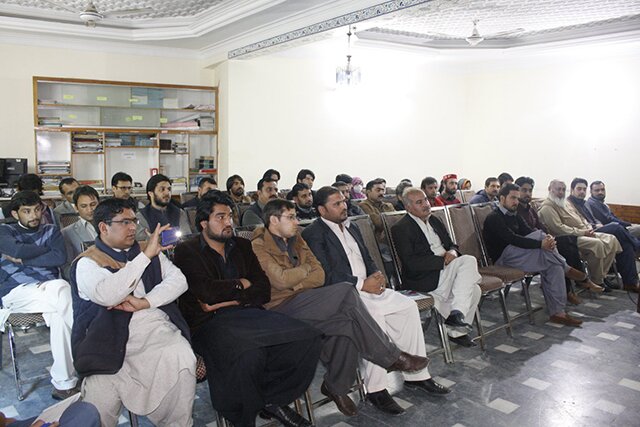 Inauguration ceremony of Bacha Khan Reading Skills Development Program
The Baacha Khan Trust Educational Foundation (BKTEF) conducted inauguration of the Bacha Khan Reading Skills Development Program at the BKTEF Head Office on February 8, 2018.
The ceremony started with Tilawat-e-Quran by Mustafa Madani followed by a pictorial documentary of the BKTEF. The documentary highlighted all the major activities the BKTEF had undertaken for the uplift of marginalized communities through quality education.
"We have been looking for ways to carry forward an alternative model of education since the past 11 years. Through the Bacha Khan Reading Skills Development program with the support of USAID, we seek to educate 2500 children directly while 180 teachers would be trained under this program. Also Libraries and librarians shall play their roles in each School respectively. We also seek to deconstruct the objectification of children and strongly bond them with books through reading." said Dr.Khadim Hussain while sharing his remarks at the occassion.
The ceremony was attended by large number of professionals, educationists, university students, Media persons, Community Education Committee (CEC) Members and BKTEF staff. Ex Education Minister and present Khyber Pukhtunkhwa Asssembly Parliamentary leader of Awami National Party (ANP), Sardar Hussain Babak was invited as Chief Guest for the inauguration ceremony.
Sardar Hussain Babak expressed that it was a great initiative by the BKTEF in collaboration with the Small Grants and Ambassador's Fund Program (SGAFP) to have started a program that worked for the improvement of reading skills among children. He said that reading and writing skills were deteriorating among children each day and such initiatives were very much appreciable.
The ceremony was ended with a vote of thanks by the MD BKTEF, Dr.Khadim Hussain.