BKTEF organizes 27th Monthly Study Circle for Baacha Khan Fellows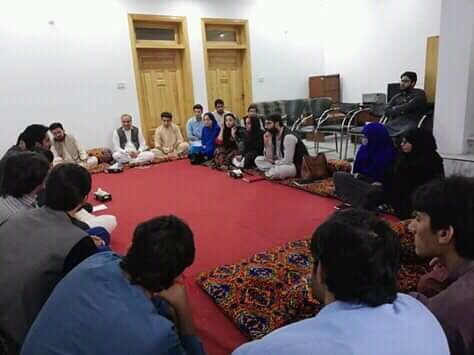 The Baacha Khan Trust Educational Foundation (BKTEF) held 27th monthly study circle at the BKTEF head office on November 3, 2018. The study circle was attended by almost 50 participants belonging to different districts of Khyber Pakhtunkhwa and FATA including Peshawar, Mardan, Swat, Charsaada, Swabi, Shangla, Hangu, Dir, Waziristan, Khyber Agency, Mohmand agency and Tank. The subject selected for the study circle was George Orwell's book "1984.
Imad Khalil talked in detail about the plot and characters of the novel. The novel mainly revolved around a political party whose supreme leader was the "Big Brother." The party controlled was in power in an imaginary country called 'Oceana'. The party also controlled actions and moves of all its adherents. There was no concept of dissent under the system. Winston, who was haunted by painful memories and restless desires, kept with himself a secret diary.
In all his melancholy, he fell in love with an a party worker, Julia. They started meeting privately till they were finally raided by the Thought Police. The Ministry of Love Affair too played its role in interrogating and torturing them to the extent that Winston finally gave up on his love for Julia and in the twist of events, became the greatest supporter of Big Brother, which he once wanted to bring down so eagerly.
Talal Baidar talked about the main theme of the novel. He said the novel mainly focused on totalitarian form of government. He said that it was mandatory to understand the four essentials of State- Territory, Government, Geography and Population. He said the essentials of Government were:
1. Number of rulers who decided whether it was a monarchy or democracy.
2. Separation of powers which decided if it was Presidential form of Government or Parliamentary.
3. Division of Powers which decided if it was Federal government or unitary government.
He said that the techniques used by totalitarian regimes were that of police terror, indoctrination and censorship of institutions of knowledge production . The tools used by them were either violence and force or taking away their language. Talal Baidar pointed out that it was needed to understand democracy which was people's will and tolerance as well as strength of the people. He said there were four types of regimes- full democracy, flawed democracy, hybrid democracy and authoritarian regime. He also talked in detail about the modern survey of "Democracy Index" which studied 116 democracies.
Sami Uddin Arman discussed the life history of George Orwell. Born in 1903, and working as a book seller and dish washer in France, George Orwell found his way into literature. Furthermore, Sami Uddin Arman talked in depth about utopian fiction, dystopian fiction and post apocalyptic fiction and linked them to science fiction.
An open discussion took place afterwards in which the participants talked in great detail about mass surveillance. They also questioned if there was any alternative to liberal democracy.
Dr. Khadim Hussain concluded the discussion on the note that it was the strategy of the powerful class to take over and control history and the essentials of life such as pleasure and happiness. They did so through terror and censorship, spreading hate, division in society and construction of particular mindsets.
In order to counter this, we need to have our capability of dialogue and debate maintained. Language too plays a significant role in countering the strategy of the powerful class which aims to overpower and control. The collective will of people is mandatory which is essential for the survival of art and literature. He said that it was essential to keep the collective memory alive.
The next study circle was decided to be held on December 1, 2018. Text decided for the coming study circle was Krishan Chandar's novel "Ghaddar".