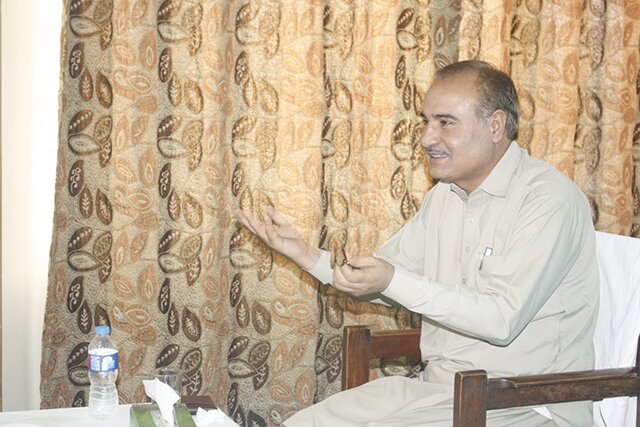 Baacha Khan Education Foundation holds Political Leadership Training and stages theatre in Balochistan
The Baacha Khan Trust Educational Foundation (BKTEF) organised a five days Political Leadership Training (PLT) for the districts of Loralai and Pishin of Balochistan province from May 18 2017 to May 22 2017 in Quetta. MD BKTEF, Khadim Hussain, Dr. Baqi Durrani, Dr. Barkat Shah Kakar, Darwesh Durrani and Ms. Wagma Feroz were resource persons for the PLT.
MD BKTEF, Khadim Hussain, took interactive sessions on social evolution, history of political thought and the philosophy of non-violence and democratic pluralism of Khudai Khidmatgaar Movement. He described various stages of human evolution and parallel evolution of political thought till the underlying construct of the modern state system. He also dilated on the gender construct and human march towards inclusive social and political frameworks. Activities on distribution of resources and decision making in a pluralist representative democracy were carried out during the sessions.
Ms. Wagma Feroz discussed Human Rights through documentaries and group work. The participants enjoyed learning the history of human rights and engaged in productive debate on various aspects of human rights including Universal Declaration of Human Rights.
Dr. Baqi Durrani delivered a lecture on various aspects of extremist violence and constituents of an alternative discourse. He threw light on the historical perspective of extremist violence in the Pashtun belt and South Asia.
Dr. Barkat Shah Kakar took a detailed interactive session on gender construct and gender discrimination. He discussed various examples from different societies to prove that gender construct is not natural and absolute and that gender discrimination is a type of socio-political exclusion.
Mr. Darwesh Durrani dilated on the role of creative literature and theatre in the Khudai Khidmatgaar Movement and perpetuation of a pluralist discourse.
After the completion of the PLT sessions, some 15 Fellows were selected who would be connected with the Fellows of other districts and the Fellows of Afghanistan.
On May 23, the Theatre Master Trainers, Ms. Wagma Feroz and Mr. Momin Khan, worked with the selected Fellows to conceptualise theme and define roles for the theatre. They came up with an interesting theme of women inclusion and psychological effects of domestics violence.
In the morning of May 24, the participants of the PLT and selected Fellows set up a Khudai Khidmatgaari camp in Ziarat, Balochistan. Theatre was staged in the afternoon of May 24 2014 in Ziarat. Large number of men and women from the local community of Ziarat watched, appreciated and discussed the performance.
Certificate distribution ceremony for the participants of the PLT was held in the evening of May 24 2017.
On May 25, MD BKTEF Khadim Hussain delivered a lecture in a seminar organised by Pukhatana Mutaraqqi Leekwal in Loralai. The theme of the lecture was ' Role of a writer in perpetuating democratic discourse'. Large number of writers, professionals, socio-political activists and local elders participated in the seminar.
The BKTEF team that facilitated and helped in organising the PLT, theatre and Khudai Khidmatgaari camp in Quetta included BKTEF Senior Field Officer, Arbab Altaf Qadir, Media Officer, Gohar Nangyal and Admin Officer, Rashid Jan.