BKTEF arranges Basic Teacher Training at Peshawar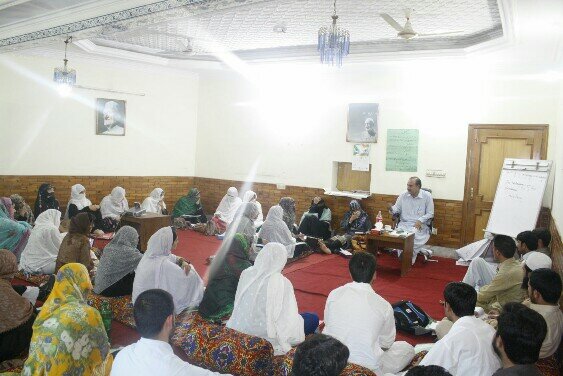 "Knowledge is not an object but a process. Infect, it is the process of observation, analysis, inferences and synthesis and sharing of knowledge which is based on the analysis of these observations. And every human, having five senses, can observe and analyze whether he/she is an adult or a child. We should not consider a child as an empty sack, blank brained or lack thinking ability. We should not stop them from questioning, instead, we should encourage them to question. It seems that present education system has failed to cater for the contemporary educational needs of children. The curriculum and teaching learning practices in public and private educational institutions do not corroborate with modern educational researches which render them obsolete. The alternative critical model of education developed by Baacha Khan Trust Educational Foundation (BKTEF) strives to equip the children with modern life skills, indigenous knowledge, culture education and crafts skills to pave way for empowerment, peace and prosperity," said Mr. Khadim Hussain (MD BKTEF) in his remarks on the occasion of opening ceremony of Basic Teachers Training of Baacha Khan School Teachers. The training was arranged at the BKTEF Directorate on May 03-May 05, 2017.
During the training, Mr. Khadim Hussain (MD BKTEF) discussed vision and mission of BKTEF, Bacha Khan Paradigm, Critical model of Education and language teaching methodologies with the participants.
Mr. Faheem Ullah (Assistant School Support Officer BKTEF), took a detailed session on lesson planning and classroom management. Through videos, he shows how lesson planning and classroom management could be helpful for teaching-learning process.
Ms. Wagma Firoz (Psychological Counselor), took a session on the child psychology and learning behavior and types. She has mentioned types of students based on learning styles and discuss how to plan a lesson keeping in view the learning styles of students.
The training was attended by 40 teachers from various districts of Baacha Khan Schools.
The training was ended with encouraging remarks and vote of thanks from the MD BKTEF Khadim Hussain.