Zeenat
Crafts Student at Baacha Khan School Mardan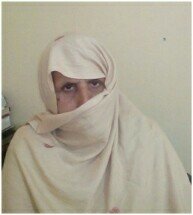 Zeenat's family faced financial constraints after her husband's retirement. Her husband, who served in army before, was later appointed as a security guard with a meager salary. It was difficult for him to make both ends meet.
Zeenat, being a patient of diabetes, has her regular visits to the hospital back and forth. She soon realized that the burden was too much to take for one person and started looking around for opportunities.
She was informed by someone about Baacha Khan Schools' Craft center which she immediately joined. A woman who knew nothing about crafts before took keen interest in learning and started excelling in knitting, threadwork and stitching. She started receiving orders from her neighborhood and relatives and her income started elevating.
Zeenat started making frocks and caps for her relatives living abroad. She was overwhelmed when her hard work was appreciated immensely by her relatives' friends in Dubai who placed large orders and paid the amount in advance.
With the money she earns through her crafts, she pays for her own expenses and does not have to be a burden on her husband who already has a lot to take care of.
Zeenat finds herself lucky that she found BKS crafts center at a time when her family faced severe financial crisis. She is now able to give a helping hand to her husband financially and has helped him immensely in repaying loans which her husband had taken.
She is glad that Baacha Khan School gave her the platform to recognize her capability and helped her become financially stable.