BKTEF holds monthly principals' meeting of BaachaKhan Schools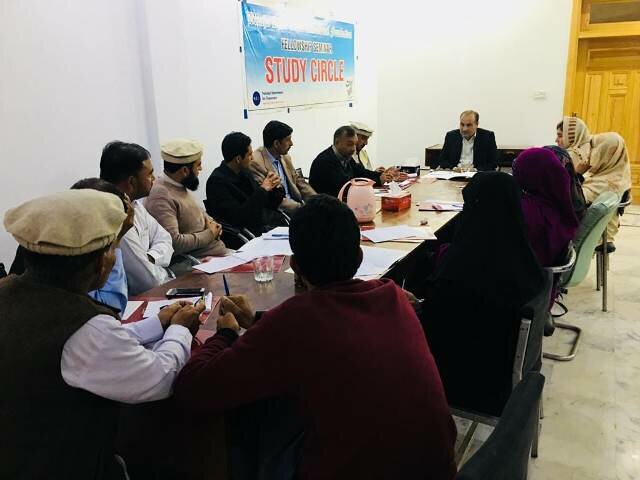 "The objective of the BKTEF was to develop the infrastructure for BK Schools and implementation of the alternative critical model of education in limited resources. We should be pleased that efforts of the faculty, BKTEF team and administrators of Baacha Khan Schools bore fruit and we succceded in establishing the model mainly with indigenous resources. The initiative of study circles at all Baacha Khan Schools has succeeded in all over Khyber Pakhtunkhwa," said Dr. Khadim Hussain MD BKTEF during the monthly perincipals' meeting held on November 14 2018.
Every principal talked in detail about the following agenda points.
Plan for admissions of the session 2019
Academic calender for the session 2019
Academic activities
Study circles
Annual increase in fee structure
Building issues
Detailed discussion was held on admission campaign for the new session and issues of BK School Buildings. The principals of Baacha Khan Schools collectively suggested alternatives for the school building issues. They also shared their experiences about the sustainability of their schools and suggested new ways to handle the future challenges.
Detailed deliberations were made for preparing the academic calendar and syllabus for the new session of 2018 at Baacha Khan Schools. The devised plans for self sustainability of Baacha Khan Schools were discussed one by one.. Measures were identified to meet the deficit in the annual budget of individual Baacha Khan Schools. The need for documenting each step of the implementation of the Critical Model of Education was empphazied.
All principals of Baacha Khan Schools, Coordination Office, School Management Department, HR Department, Admin Department, Field Department and Finance Department attended the meeting.
The meeting was ended with vote of thanks by the MD BKTEF, Dr. Khadim Hussain.