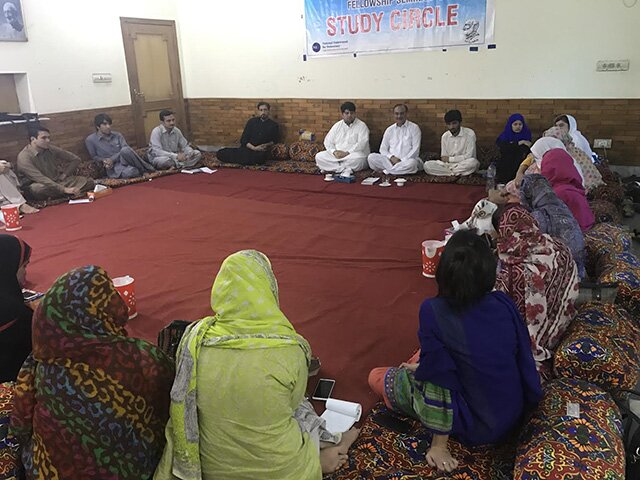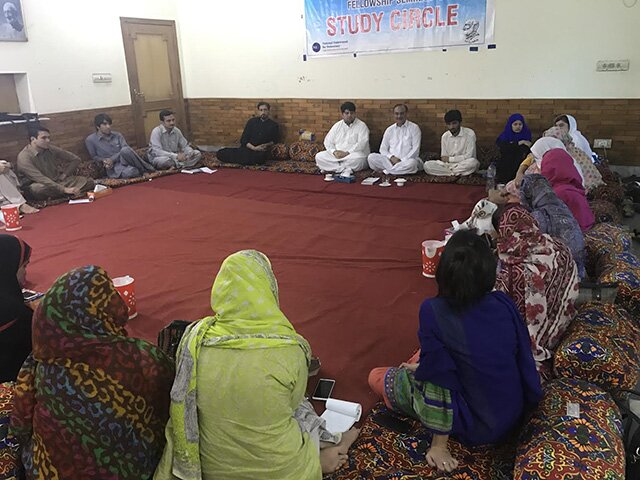 BKTEF organizes 23rd Monthly Study Circle for Baacha Khan Fellows
The Baacha Khan Trust Educational Foundation (BKTEF) held 23rd monthly study circle at the BKTEF head office on July 7, 2018. The study circle was attended by almost 40 participants belonging to different districts of Khyber Pakhtunkhwa and FATA including Peshawar, Mardan, Swat, Charsaada, Swabi, Shangla, Hangu, Dir, Waziristan, Khyber Agency, Mohmand agency and Tank.
The participants discussed the upcoming general elections and the role of women and youth in democratic political parties.
Suleiman Yousafzai while talking in detail about the role of youth in the coming elections said that youth had been actively working to carry forward their respective agendas through different forums such as Pukhtun Students Federation(PSF), Pakhtun Youth Organization(PYO), Insaf Students Federation(ISF) and Jamiat e Talba. He said that the role of women campaigners from Awmi National Party (ANP) was witnessed to a great extent this time. The youth had actively been working as researchers and paved a way for dialogue and debate. Suleiman maintained that social media buzz was created by the youth which affected the neutral vote. He said that the youth had been working towards youth mobilization and their facilitation for the coming elections.
The role of women in democratic political parties and upcoming general elections was discussed by Ms. Samina Afridi. She said that the role of women could be viewed through two spectrums, i.e.; the empirical level and the theoretical level. It was to be noted whether participation and rights of women were ensured in a democracy or not. She expressed that the role of women had always been there. When Pakistan was first created, two women were elected as Parliamentarians. The question remains whether their role was symbolic or substantive. She also said that there was no well defined criteria for reserved seats of women in the Parliament and their role in leadership positions had been minimum. She further expressed that representation did exist but a step forward was needed for women to play their role.
It was pointed that there remained such socio cultural barriers and rural urban divide that women in some rural areas mostly did not know what "vote" meant. The political parties too were so patriarchal in structure that despite Election Act 2017, whereby women had to be allotted 5% tickets, they were given seats in those areas where they were sure not to win. It was regretted that there were little presence of political parties in tribal districts but seminaries existed which had been propagating their interests using religion as a tool.
The other participants including Anwar Orakzai, Said Rasool Bittani, Wakeel Jan Marwat, Mehnaz, Imad Khalil, Azmat Afridi, Daud Afridi and Saifullah talked in depth about their constituencies and the recent situation of electioneering in their respective areas. They shared in detail the preparations for the upcoming elections and their efforts to have maximum women participation. The participants from tribal districts which have recently been merged with Khyber Pakhtunkhwa shared that their votes had been sent to other constituencies.
The Study circle was concluded by Dr.Khadim Hussain on the note that Structure needed to be transformed while analyzing a State and how the structure regulated relations between individuals. He said that unless the tools were not identified, change could not be expected. Scientific analysis in terms of politics, he said, was possible only if identification was reflected correctly. Dr.Khadim Hussain said that there were always two kinds of entities in a state. Those defining policies and tools for State defense on the one hand and those letting people decide for themselves on the other hand. Therefore it was needed that the democratic parties would not leave vacuum and must be strengthened to take forward peoples' narrative. Though there did exist hindrances in their way of moving forward such as pre poll rigging, the role of information ministry of State that worked against all those entities working for structural transformation and infiltration of State institutions. We, as citizens, are bound to support those entities which talk for people's power. We must strengthen political parties logically, constitutionally and legally, ask for equal rights over resources, taking part in political parties and political process while pre poll rigging must be exposed.
The next study circle is decided to be held on August 4, 2018. Text selected for the coming study circle is Fazal Zaman Shalman's book Maulvi Fazal Mahmood Makhfi.