BKTEF organizes 22nd Monthly Study Circle for Baacha Khan Fellows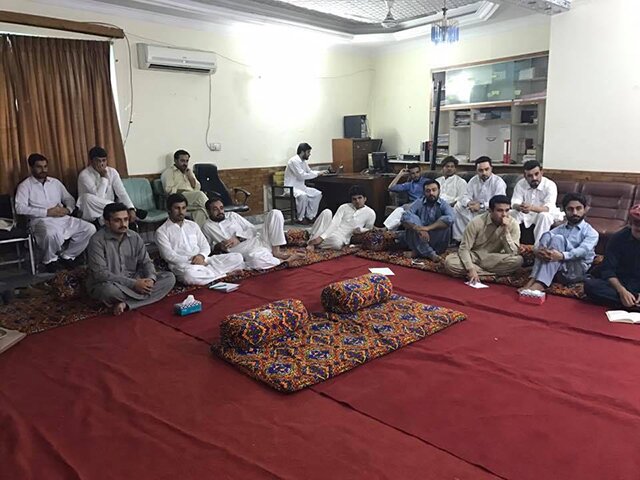 The Baacha Khan Trust Educational Foundation (BKTEF) held 22nd monthly study circle at the BKTEF head office on June 2, 2018. The study circle was attended by almost 40 participants belonging to different districts of Khyber Pakhtunkhwa and FATA including Peshawar, Mardan, Swat, Charsaada, Swabi, Shangla, Hangu, Dir, Waziristan, Khyber Agency, Mohmand agency and Tank. The text selected for the study circle was Dr. Mubarik Ali's book "Achoot logo ka adab."
The participants discussed various aspects of the novel. Azmat Khan talked in detail about the term "Achoot(untouchability)." The relationship between women and the untouchables was elaborately discussed by Nadia Khan while the arts and politics of disempowered communities and races were discussed by Tariq Pukhtunyaar.
Azmat Khan, while discussing the word "Achoot" pointed out that there was no similar term for the untouchables in Pashto language, however, other words did exist to malign a particular class or profession or race within a particular society. He said that the concept of untouchability had existed from time immemorial; in the form of slaves followed by prisoners and women. Mubarik Ali's book provided an insight into the lives and literature of the untouchables (achoot). The Achoots were convinced by the stronger castes that they were bearing the brunt of their ancestor's evil deeds. He further said that the existence of achoot class was inevitable in a caste and class social structure. Azmat Afridi also referred to an organization for achoots named Dillat Panther, which called for political, social, cultural struggle for empowerment of the untouchable in India.
While talking about the correlation of arts and politics of the downtrodden communities and castes, Tariq Pukhtunyar pointed out that both were interrelated and complimented each other. He said that non political art could never exist.
Nadia Khan said that women in Dallit cast were more independent in decision making than Brahman women yet they remained vulnerable throughout. She said that Brahman women were so protected that their decision making power had been crippled. She further said that the present status of women in our society was no different than that of Dallit women with culture and religion being used as a pretext to submit them.
Abid Yousafzai said that the first apparent movement that countered the achoot system was that of Khudai Khidmatgar Tehreek which openly gave rights to people belonging to all castes of society.
Mehran Wazir talked in detail about the opportunity aspect of human rights and process aspect of human rights. He further said that clear difference had been shown in Mubarik Ali's book between the women belonging to upper and lower classes of society.
Shafiq Gigyani questioned the duplicitous standard of society where they defined women as strong enough to collect water from streams but too weak to attain education.
Another participant, Ibrahim, maintained that there was a lot in common among the radical Marxists, radical feminists and radical Islamists as they were all bent on taking the human agency entirely from people.
Sulaiman Yousfazai was of the view that power and economy was controlled by using religion as a tool. He said that humans carried out actions keeping sin and blessing filter in mind which impeded their welfare.
The discussion was concluded by Dr.Khadim Hussain. He said that there might be minor variation in the process of hegemonizing a community, class or race with difference in manner while substance remained the same. He further said that there were three justifications for hegemonizing and sustaining the hegemony. First among them 'civilising' and particular community, race or class. The second was to 'discipline' the people who might be perceived as 'fatal for other humans' and finally the hegemonizing elected wanted to be remembered in history. In order to achieve this, they used genetic framework, religious interpretation and civilization interpretation.
Dr.Khadim Hussain said that resistance against such disempowerment would be inevitable. When tyranny prevailed to the extent that hegemonized started fearing extinction, the hegemoized would rise against it. Therefore it was mandatory that human social relations were recognized and historic consciousness was kept intact for standing up to existing hegemonic social relations. He said that there was a need to rediscover ourselves, resist such moves where economy or power was at stake, transform social relations and take forward harmonious institutions.
In the end he pressed that we must not end tyranny with tyranny itself but peaceful resistance and non violence. The hegemon was not to be replaced, hegemony was to be dissipated. There was no room for revenge and hatred in this struggle.
The next study circle was decided to be held on 7th of July, 2018, on the book titled 'Maulvi Fazl Mahmud Makhfi' by Fazal Zaman Shalman.