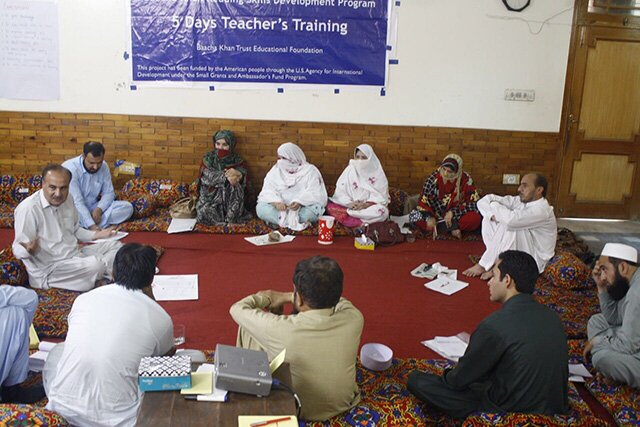 BKTEF holds monthly principals' meeting of Baacha Khan Schools
"The principals of Baacha Khan Schools and the Baacha Khan Trust Educational Foundation (BKTEF ) team succeeded to take substantial measures for sustaining all Baacha Khan Schools and for implementing the alternative model of education in letter and spirit. The relevant communities played an important role to sustain and deepen the critical model of education through indigenous resources. The collective efforts for sustainability of Baacha Khan Schools will prove to be a model that can be internationally emulated for sustaining community schools. The people of Khyber Pakhtunkhwa and Fata in particular and of Pakistan in general will see large strides towards social transformation through sustained Baacha Khan Schools in the near future", said Dr. Khadim Hussain, Managing Director BKTEF, while concluding the monthly principals' meeting of Baacha Khan Schools held on May 4 2018 at the the head office of the BKTEF.
Detailed deliberations were made for preparing the academic calendar and syllabus for the new session of 2018 at Baacha Khan Schools. The devised plans for self sustainability of Baacha Khan Schools were discussed one by one. Expansion of the Community Education Committees and donation camps were planned in each district for the purpose. Measures were identified to meet the deficit in the annual budget of individual Baacha Khan Schools.
The ongoing Reading Skills Development Program and assessment system at Baacha Khan Schools were also discussed in great detail. The need for documenting each and every step of the implementation of the Critical Model of Education was emphasised.