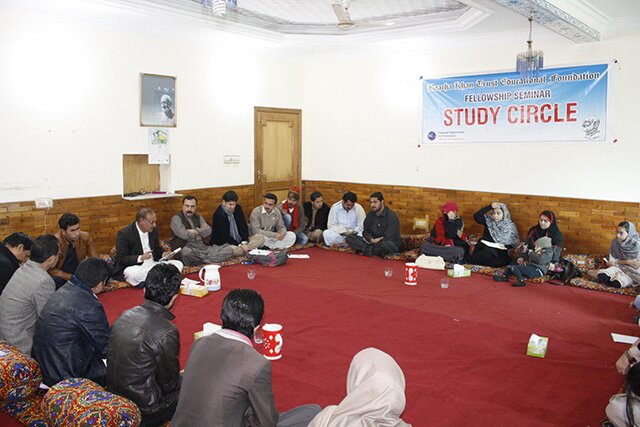 BKTEF organizes 17th Study Circle for Baacha Khan Fellows
The Baacha Khan Trust Educational Foundation (BKTEF) held 17th monthly study circle at the BKTEF head office on January 6, 2018. The study circle was attended by almost 55 participants belonging to different districts of Khyber Pakhtunkhwa and FATA including Peshawar, Mardan, Swat, Charsaada, Swabi, Shangla, Hangu, Dir, Waziristan, Khyber Agency, Mohmand agency and Tank. The article selected for the study circle was "Challenging the human rights discourse" written by Khan Zaman Kakar.
The participants had an open discussion on the given topic where they threw light on the framework of human rights which was developed after world war-II. They maintained that this particular framework saw humans as only individuals rather than a collective group of people belonging to a particular society. This leads to loss of history and language along with strains in societal relations, if taken on face value.
Among the participants, Hakeem Afridi said that the human rights discourse had given an individual weightage over society owing to which an entire society was favored or targeted based on one individual's actions.
Another participant, Suleiman pointed out that the writer of the article referred to Pakistan violating human rights in its own country while claiming to be its defendant in UN. He argued that the problem lied with the ones implementing the Human rights framework. He also shed light on Jihadism and feminism discussed in the article and stated his disagreement with the writer on the note that Jihadism was based on force while femisim was a matter of choice.
Azmat Khan was of the view that the terminologies mentioned in human rights such as "sensitization" did not apply to us as a nation since the Universal Declaration of Human Rights (UDHR) came into being after WWII when the world went through heavy industrialization and was faced with Nation State phase.
Tahira Kaleem maintained that sensitization in reality was brought by foreign countries who decided priorities for us. She said that even though we inform children about their right to education stated in the constitution i.e.; Article 25-A, we however need to realize what the education system imparted in reality.
Tariq Pukhtunyar said that Khyber Pukhtunkhwa was replete with resources but control over them lied elsewhere. He stated that the need of Non Governmental organizations (NGOs) would be minimized if we stood up as a nation to have right over our own resources.
The discussion was further taken forward by Abdul Rauf, Afsar afghan, Anwar Khan Orakzai ,Kiran Fida, Ayaz, Shahbaz, Gohar Afridi, Mehnaz, Sher Alam Shinwari, HakeeM Afridi, Said Rasool Bittani, Imad Khalil and Abdul Malik. They had an in depth discussion on the role of media in the coverage of human rights violation.
Some of the participants in the study circle strongly regretted that violation of human rights pertaining to an area were discussed and brought into light in other cities rather than solved in that particular area. While others argued that they should be discussed in metropolitan cities so that the message was sent across to maximum number of people.
The discussion was concluded by Dr.Khadim Hussain who discussed Society and Individuals in detail. Society, he said, was a combination of humans, history, aesthetics and culture. A successful society was the one that had control over their own resources along with decision making power in their hands. Individuals, on the other hand had always been keen to discover their evolution process which led to recognition of human agency.
Dr.Khadim Hussain referred to the book "Vanishing Voices" which scientifically proved that the loss of language in a nation led to loss of people's control over their resources and hence their diversity was easily controlled. He also pointed out that educational institutions were another source of controlling common people of a nation, through construction and permeation of hegemonic discourse.
He maintained that the way out of this quagmire was to recognize our human agency, had our collective will intact, took responsibility for our own thinking and having formed a strong network among likeminded people. He also pressed on the need to find alternatives as mentioned in Paulo Freire's book "Pedagogy of the oppressed."
Dr.Khadim Hussain ended the conclusion on the note that a nation could succeed only if it was left to exercise its rights and had control over their resources.
The next study circle was decided to be held on February 3. 2018. Text selected for the coming study circle is a short story titled "Dwa Jhandey" written by Ajmal Khattak.
Report by: Natasha