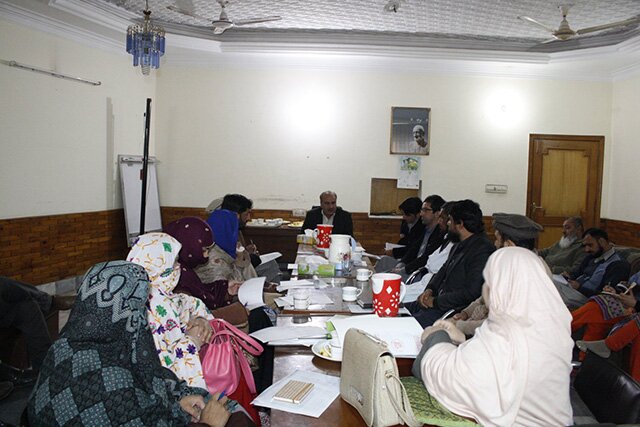 Baacha Khan Schools Principals' meeting
"Each one of us has to be bear in mind that Baacha Khan Schools belong to the whole society and the whole nation. They are non-profit schools providing quality education to the marginalized communities of Khyber Pakhtunkhwa and FATA. The alternative model of education constructed by Baacha Khan Trust Educational Foundation (BKTEF) and implemented at 15 Baacha Khan Schools need to be retained. It is due to our efforts collectively that we have been able to clear the backlog of the past two months by reaching out to the common people, small business persons and the Pashtun Diaspora. We need to keep our pace intact in order to make Baacha Khan Schools sustainable." said Dr.Khadim Hussain, MD BKTEF while concluding the monthly principals' meeting held at the BKTEF head office on January 5, 2018.
The principals' of all Baacha Khan Schools had an in depth discussion on the upcoming charity shows, advertisements for new admissions, prevailing conditions in schools due to extreme weather, Schools buildings, board exams, school admissions and donations.
Other points of discussion included:
1. Baacha Khan Day.
2. Advertisements for charity shows
3. The overall situation in schools.
The meeting was attended by all principals and CEC members of Baacha Khan Schools, members of the MD Office, School Management Department, Field Department, Department of Financial Management, Media Officer and Admin Department.
Meeting was ended with a vote of thanks from the MD BKTEF Dr. Khadim Hussain.