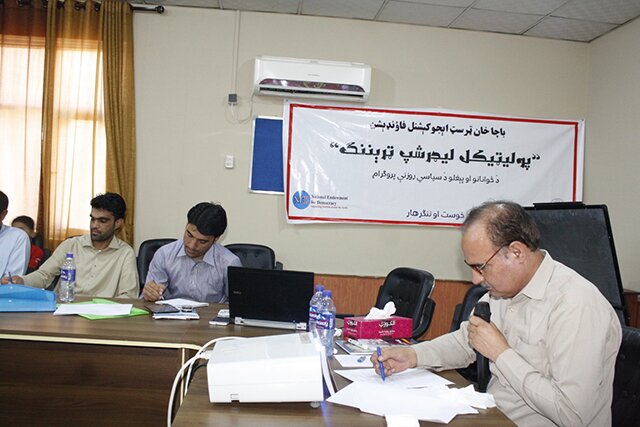 BKTEF organizes Political Leadership Training for the youth of Paktia, Kandahar and Khost.
A six days Political Leadership Training was conducted by the Baacha Khan Trust Educational Foundation(BKTEF) for the youth of Paktia, Kandahar and Khost provinces of Afghanistan from 23rd of August, 2017 till 28th of August, 2017. The training was attended by almost 40 participants including youth from Balkh, Badakhshan and Zabul. Modules for the training included leadership skills, non violent struggle for democracy, history of political thought, social evolution, concept of human rights, political history of Afghanistan, non violence and Baacha Khan Paradigm and the narrative and strategy of Khudai Khidmatgar movement and women rights. 12 Fellows were chosen at the end of the training.
An elaborate orientation was given to the participants on various aspects of human righs, leadership skills, history of Khudai Khidmatgar movement, political thought and social evolution.
A theatre was also held at Ningarhar University Jalalabad on the themes of child marriages, democracy and non-violence. The theatre was followed by an interactive discussion with the audience in which views of the participants were discussed.
The BKTEF also had a panel discussion on Kabul National Television regarding pluralism, democracy, education, institutionalization of dialogue and non violence.
Through the Leadership training, the BKTEF team hopes to pave way for people to people contacts for minimizing trust deficit between Pakistan and Afghanistan, have a smooth path paved for building democratic leadership and to have networking among the youth of Afghanistan, Balochistan, Khyber Pakhtunkhwa and FATA.