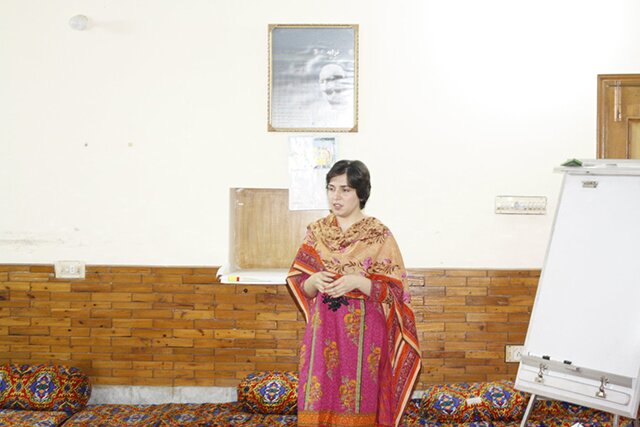 The BKTEF organizes Psychological Counseling Orientation session for BK School Counselors
While implementing alternative model of education in all Baacha Khan Schools, one of the core part of the model is to provide counseling services to students and teachers in the schools. To train the school counselors and provide them with new techniques and strategies of dealing with students, one day orientation session was arranged for school counselors at BKTEF Head-office on July 17, 2017.
Ms. Wagma, Psychological Counselor, formally started the session with an icebreaking activity of "introduce your fellow". She asked the participants to discuss their school issues and how they deal with them. After a detailed discussion on the student's problems, she discussed Guidance Counseling and role of school Counselors. She also briefed the participants on the following topics:
• Working with Students
• Individual and group counseling
• Monitoring and Encouraging student's development
• Career Guidance
• Working with Parents
• Working with Teachers
Mr. Khadim Hussain (MD BKTEF) discussed vision and mission of BKTEF, Baacha Khan Paradigm, and Critical model of Education and importance of counseling in schools with the participants. He discussed certain myths regarding 'knowledge', 'student' and 'teacher'.
Ms. Mahwish (Intern) discussed the ethical standards in counseling and energized the participants with some activities.
Ms. Wagma further discussed with participants "how to deal with student's Behavioral, Emotional and Social Problems". She also briefed them on filling out counseling Proforma used at each school to record student's disruptive behaviors and other problems related to their academics. Then she discussed "anger mapping" and how it can be used to map students' aggression level and make them able to trace their anger and deal with it effectively. Anger map consists of the following questions:
When you are angry;
• What kind of face do you have?
• What things do you say?
• How do you behave?
• What happens to your body?
• What helps you when you are angry?
At the end participants' feedback was recorded. They shared that they learnt about effective counseling strategies and involvement of teachers and parents in school for the betterment of students.
Session was ended with encouraging remarks and vote of thanks.