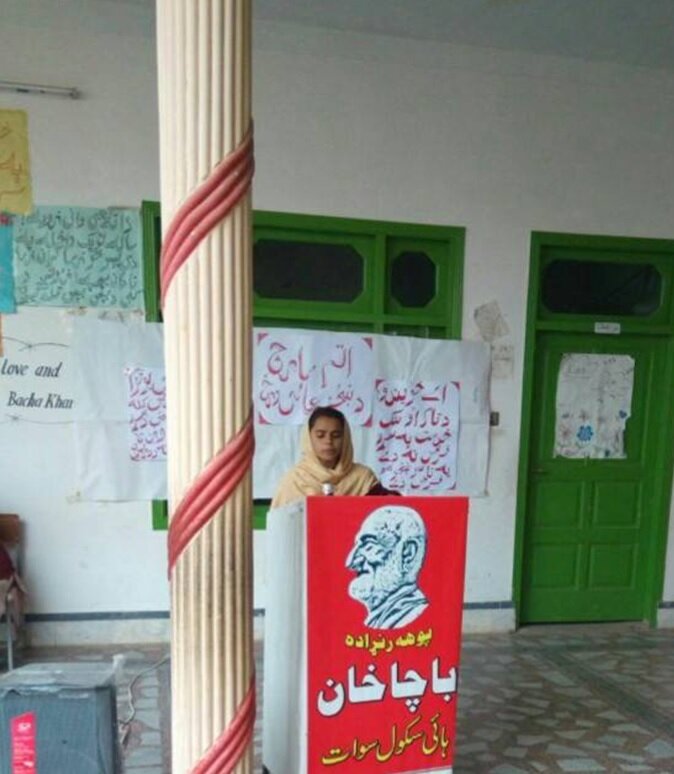 Rehana Ali
Baacha Khan School Swat
Grade 7
Rehana, a student of grade 7 in Baacha Khan School Swat had a very bitter experience with her previous schooling. She recalls how fearful she would become every time someone would mention the term "education".
Whether it was school, study, books or knowledge, for her, everything related to education summed up to violence, hurt, and humiliation which her teachers inflicted upon her and her fellows for minor mistakes. She recalls how her self esteem was shattered everyday when they would be beaten for failing a test or being absent for genuine reasons.
In grade 7, when she was admitted to Baacha Khan School she found out how she remained aloof of her fundamental rights having been violated all along. She realized how violence had shaken her personality. She thought she needed to mend her shattered self esteem.
Following the philosophy of Baacha Khan's non-violence and social justice, her teachers started paying special attention to her. The girl, who was initially daunted and scared, started progressing rapidly. She started asking questions in class and participated in all academic and cultural activities.
Rehana delivered a speech on women's rights on March 8, 2017, a day that is dedicated to commemorate the movement for women's rights.
Moreover she sang a song "Margiya ma raza darzama" in a skit to honor the martyrs of Babarra Massacre. Rehana has performed in theatre as well.
She takes regular classes in crafts center at Baacha Khan School and has been able to acquire a number of skills which include cutting, stitching, embroidery, and knitting.
The morale that was once lost because of constant violence and fear in her previous school was finally restored in her for the last one year of studying at Baacha Khan School.