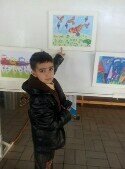 Abdul Mohsin
Baacha Khan School(BKS) Swabi
Grade 4
Abdul Mohsin, A student of grade 4 at BKS Pabini, Swabi, achieved National Prize for children with special needs in ArtBeat- National Child art competition in which hundreds of children participated from all around the country.
Theme of the competition was Rang-e-Bahar. According to which he drew birds, kites, flowers and trees. He was awarded a shield along with a certificate and will be granted a sum of Rs. 7000/- in March.
Talking about the idea that occurred to him in the competition, he says he portrayed in his drawing what he observed in his village. People love flying kites during spring and its colorful all around which is clearly depicted in his art piece.
Other than drawing, he also shows interest in stage performance and participates in skits and Quran-e-Pak Tilawat too.
He takes his studies seriously simultaneously and achieves high grades since nursery.
Abdul Mohsin says his teachers have been very helpful and cooperative and he's proud to be a student of BKS.